As one of the best pipe suppliers around, we understand very well that the quality of our service goes hand-in-hand with the quality of our vendors. Our meticulously curated network of top-quality vendors enables us to deliver superior products that meet our high standards and exceed our clients' expectations. In this article, we spotlight some of our trusted vendor partnerships and their crucial contributions to our offerings.
Quality at Its Core: Our Vendors
Our partnerships with industry-leading vendors ensure that we are able to offer the finest products to our customers, backed by exceptional service and unrivaled industry knowledge.
Pipe and Fittings Vendors
Our vendors for pipes and fittings provide us with a diverse range of top-notch products, from stainless steel to copper, ensuring we cater to your every need.
Wheatland Tube: Wheatland Tube is a reputable supplier of carbon steel pipe, recognized for their superior quality, American-made products that stand the test of time.
Copper Development Association (CDA): The CDA is an authoritative resource on copper and copper alloys. Their comprehensive knowledge and broad selection of copper products guarantee that we can meet a wide array of applications with durability and efficiency.
Valve Vendors
We partner with premium valve vendors who deliver dependable solutions for various flow control needs across commercial and industrial projects.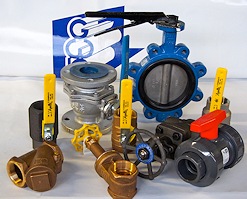 Apollo Valves: Apollo Valves, a leading manufacturer, offers an expansive range of valves, from ball and butterfly valves to mixing valves, enabling us to accommodate diverse client requirements.
Cash Valve: Cash Valve is renowned for its industrial pressure control solutions. Their high-quality pressure relief valves align perfectly with our commitment to providing robust and reliable products.
PVC & CPVC Fittings
This vendor is a leader in the manufacturing of plastic valves, fittings, and pipe. Their innovative and broad-ranging product line adds considerable value to our offerings.
Spears Manufacturing Co.: Spears Manufacturing Co. provides an extensive range of top-quality plastic valves, fittings, and pipe, catering to a wide variety of applications in different industries. With a constant focus on innovation and quality, Spears Manufacturing Co. aligns seamlessly with our commitment to delivering cutting-edge, reliable solutions to our clients.
The Value of Strong Vendor Relationships
Unparalleled Quality and Selection
Our partnerships with leading vendors like Wheatland Tube, CDA, Apollo Valves, Cash Valve, and Spears Manufacturing Co., allow us to offer a diverse selection of superior-quality products. Whatever your project needs, the best pipe suppliers in Colorado can provide.
Competitive Pricing
Our close vendor relationships enable us to secure the best possible pricing for our clients. We firmly believe that premium quality doesn't have to come at a premium price, and our vendor relationships help us deliver on this promise.
Innovation and Sustainability
Our vendors are at the forefront of industry innovation, frequently launching groundbreaking, eco-friendly products. By fostering these partnerships, we bring the latest advancements in the industry to our clients, promoting both high performance and environmental sustainability.
Great Western Pipe and Supply Co.: A Commitment to Quality and Service
At Great Western Pipe and Supply Co., we are more than a supply company. We are a dedicated team committed to delivering quality, value, and exceptional service to keep our reputation as the best pipe suppliers in the area.. Our vendors play a significant role in this commitment, and we take pride in our collaborations with them. Whether your project is a small residential endeavor or a large-scale commercial development, you can trust that our products—and the vendors behind them—will meet and exceed your expectations.
To learn more about our vendors or to discuss your project needs, contact the Great Western Pipe and Supply Co. team today.